Going in to this presidential election season, we now have two options, McCain vs. Obama. One admits he knows nothing about the economy, the other, well, he's full of plans and "hope".
What are we as Americans truly facing?
As Bush and company wants to continue painting a rosy picture, we have record home foreclosures, inflation skyrocketing with wages remaining stagnant or people losing their jobs altogether in cutbacks, business closures or the shipping of their jobs overseas, and the record breaking price of gasoline making driving to work or making bill payments two options one must choose between.
At the end of the day, what do we all need? A roof over our head and food in our bellies.
Monday the LA Times carried two ominous articles on these two necessary items.
THIS
one, covers the home foreclosures in just one area which had been booming, Merced County, California. The one below gives us "hope". We can all find a way to still eat as long as we change our habits.
Sales of Spam rise as consumers trim food costs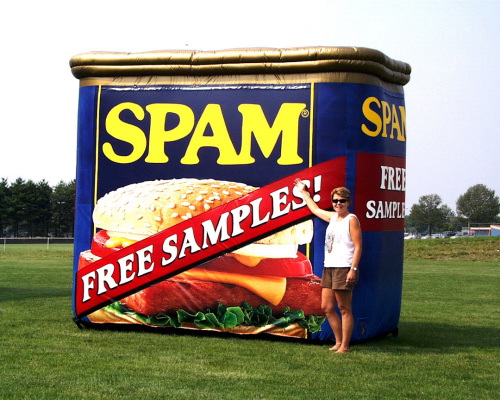 picture source
With grocery and fuel prices rising, the often-mocked but relatively inexpensive lunch meat is making a more frequent appearance at the table.
MILWAUKEE -- Love it, hate it or laugh at it -- at least it's inexpensive.
Sales of Spam -- that much-maligned meat product -- are rising as consumers are turning more to lunch meats and other lower-cost foods to extend their already stretched food budgets.
The frequent target of parody (Monty Python, among others, mocked the meat in a can) is back on the table as people turn to the once-snubbed product as costs rise, analysts say.
Food prices are increasing at the fastest rate since 1990, at 4% in the U.S. last year, according to the Agriculture Department. Many staples are rising even faster, with white bread up 13% last year, bacon up 7% and peanut butter up 9%.
There's no sign of a slowdown. Food inflation is running at an annualized rate of 6.1% as of April, according to the Bureau of Labor Statistics.
The price of Spam is up too, with the average 12-oz. can costing about $2.62. That's an increase of 17 cents, or nearly 7%, from the same time last year. But it's not stopping sales, as the pork meat in a can seems like a good alternative to consumers.
Kimberly Quan, a stay-at-home mother of three who lives just outside San Francisco, has been feeding her family more Spam in the last six months as she tries to make her food budget go further.
She prepares dishes such as Spam fried rice and Spam sandwiches two or three times a month, up from once a month previously.
Pulling Spam from the shelf prevents last-minute grocery-store trips and overspending, said Quan, 38, of Pleasanton, Calif.
"It's canned meat and it's in the cupboard, and if everything else is gone from the fridge, it's there," she said.
Spam's maker, Hormel Foods Corp., reported that it saw strong sales of Spam in its fiscal second quarter, which helped push its profit up 14%. According to Hormel sales information provided by Nielsen Co., Spam sales were up 10.6% in the 12-week period ended May 3, compared with the same period last year. In the last 24 weeks, sales were up nearly 9%.
The Austin, Minn.-based company, also known for its Jennie-O Turkey Store line, has embarked on its first national ad campaign for the 71-year-old Spam brand in several years. It's credited the sales increase to that, along with new products such as individually packaged Spam Singles slices. Also helping sales, executives said in an earnings conference call, was the fact that people looking to save money are skipping restaurant meals and eating more at home.
Spam sales are reaching across all spectrums, young and old and rich and poor, said Swen Neufeldt, Hormel's group product manager for the division that includes Spam. Many of the eaters are new to Spam, which was created in 1937 and gained fame as the meat that fed Allied troops during World War II.
"We have significantly increased our household penetration," Neufeldt said. "I think it's a lot of folks that are coming into the brand perhaps for the first time and coming back to the brand."
Hormel began its national advertising campaign, including print and television, for Spam in January. Neufeldt said such campaigns are planned in advance and it wasn't tied to perceived weakness in the economy.
Other companies are seeing similar boosts in their lunch meats. Kraft Foods Inc. reported last month that subsidiary Oscar Mayer, which makes hot dogs, bacon and cold cuts, saw double-digit revenue growth in the previous quarter in its Deli Fresh cold cuts. (
SOURCE
)
HERE
are some recipes to get you started.