Brian De Palma TRIED to make a movie about the cold-blooded murder and rape of Abeer Qasim Hamza al-Janabi and other members of her family, but "Redacted" has been redacted, censored because the pictures are too gruesome, possible law suits, but are those really the reasons? This is just unbelievable. Why did the US soldier rape and murder her and her family? Read
HERE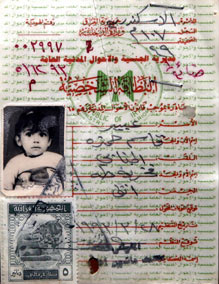 Abeer Qasim Hamza al-Janabi
Director De Palma disturbed over Iraq film edit
By Christine Kearney
NEW YORK (Reuters) - Veteran Hollywood director Brian De Palma has lashed out at what he calls the censorship of his new film about Iraq and the chilling effect of corporate America on the war.
De Palma's film, "Redacted," is based on the true story of a group of U.S. soldiers who raped and killed a 14-year-old Iraqi girl and murdered members of her family. It has stunned audiences for its shocking images and rattled American conservative commentators before its U.S. opening next month.
But De Palma says he is upset that the documentary-style drama -- its name derived from his view that news coverage of the war has been incomplete -- has been censored.
The film's distributor, Magnolia Pictures, ordered the faces of dead Iraqis shown in a montage of photographs at the end of the film be blacked out.
"I find it remarkable. 'Redacted' got redacted. I mean, how ironic," De Palma, who made his name directing violent films like "Scarface" and "The Untouchables," said in an interview. "I fought every way I could in order to stop those photographs from being redacted and I still lost."
De Palma has loudly argued the issue in public, including sparring with Eamonn Bowles, the president of Magnolia, during a recent forum at the New York Film Festival. Bowles countered that possible future lawsuits by the families of the dead Iraqis meant the photos had to be edited.
Bowles said Magnolia had been put in "an untenable legal position," and that De Palma lost rights to the film's final cut in recent arbitration with the Directors Guild of America.
"We were always open about letting him make the sort of film he wanted to make," Bowles said in an interview, adding not many distribution companies would have supported the film at all.
CORPORATE POWER
De Palma, who has criticized Hollywood for not being willing to finance such independent films, said he was shocked at his own lack of editorial control.
"I can't even get the photographs out there, that was all surprising to me," he said. "What is going on here? These are war photographs. ... You see these and you go 'oh boy, this shouldn't be happening."'
The 67-year-old director said he blames "the insurance companies" for exercising too much control over film distribution. Bowles admitted Magnolia could not insure the film if it ran the unedited photos, which were too graphic to run in mainstream newspapers or television reports.
De Palma said he expected the images in "Redacted" to stir U.S. public debate about the conduct of American soldiers. Abeer Qasim Hamza al-Janabi was gang-raped, killed and burned by U.S. troops in Mahmudiya, south of Baghdad, in March 2006. Her parents and another family member were also killed.
He said the film provided a realistic portrait of U.S. troops and how "the presentation of our troops has been whitewashed" by mainstream media.
De Palma, who looked at the atrocities of conflict in the 1989 film "Casualties of War," which also centers on the rape of a young girl by U.S. soldiers, believes news coverage of wars had changed since the Vietnam War.
"We saw fallen soldiers, we saw suffering Vietnamese. We don't see any of that now," he said. "We see bombs go off, but where do they come down? Who do they hit?"
The U.S. invasion of Iraq was "clearly a mistake," he said, that was perpetuated by "defense contractors, big corporations of America" profiting from the war.
"How many billions of dollars are those companies making? And who gets more famous than ever? The media. There is nothing like a war to fill the airwaves 24 hours a day," he said.
Source
"Redacted Stuns Venice"
These two children are Ahmed Qassim Hamza and Mohammed Qassim Hamza.
Ahmed is the boy on the left has the age of 9. His brother Mohammed is 11. They are not much older than the children I teach in our school in the refugee camp that I and my children live in.
They are not much older than my children.
These two children all that is left of the the family of Iraki 14 year old girl Abeer who was raped and murdered in Mahmoudiya by 5 US soldiers. The 5 American animals in uniform did this because they wanted to and because they could for no other reason. And now your dirty American rapist soldiers the ones who got caught are crying like bad children who have been caught doing something wrong. This is what your "brave American soldiers" did to the family of these two children:
Their father Qasim Hamza Raheem's head was "smashed" by bullets.
Their mother Fakhriyah Taha Muhsin was murder by Americans shooting her in the head.
American soldiers shot their seven year old younger sister Hadeel Qasim Hamza dead. Maybe we should be grateful that they didn't rape her too.
Their fourteen year old sister Abeer Qasim Hamza first raped then shot and her body burnt.
Their sister Abeer heard all of this being done as she was being raped by your brave American boys. Your brave American boys whose parents brought them up to believe that they could behave as they wish in other people's homes. Your brave American boys who steal constantly when they smash in the doors to our homes to force their way in. . If you are the wife of an American soldier ask him which Iraki home he stole your new rings and earrings from. No do not bother he probably will not know. We all look the same to you don't we?
I am not interested in hearing from Americans about forgiveness or justice or mercy. I give thanks to God that I am not an American. When you have sent your rapist invaders to an Iraki court to be tried and sentenced according to Iraki law then we can start talking about "mercy" and "forgiveness."
The only reason these two boys are not dead is because they were away at school. When they came back from school they saw what your brave American boys had done to their family and to their home.
They could see their dead parents.
They could see and smell the blood of their murdered parents.
They could see their dead sister Hadeel.
They could see the flames in their home set on fire by the same American soldiers who had murdered and raped the people they loved.
Their cousin Abu Firas Janabi found them standing crying in front of the door to their home. the home that the brave American soldiers set on fire after murdering their family, and raping their sister, they could see the dead bodys of their parents and the dead body of their younger sister.
There is no excuse for what your American troops do. But there is a reason they did this because they were Americans and they wanted to do it so they did. They did it because they were badly brought up by bad parents in a bad country. Yes their parents are bad people If they were decent people who had done their job properly their sons would not be in my country preying upon Iraki children like mine and like the sister of these two boys.
Zeynab
Brian De Palma Talks About Redacted
Trailer